How to pack your storage unit
You've rented your storage unit, you have a van full of much-loved furniture and precious heirlooms – and now you need to put it all in your unit. It sounds simple, but it is worth putting a little forethought into how you use up your space.
Here's just some of the things you need to consider when you're unpacking your van.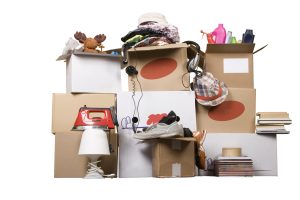 Plan what you'll need in advance
How you stack your storage until will depend on what you intend to use it for. If your unit is an extra cupboard, a place to keep your Christmas decorations, seasonal sports gear or garden tools, you might want some racking installing to help keep things organised and accessible.
If you do without racking, then put the items you use most frequently towards the front of the unit, to save having to lift everything out of the way each time you want to get in.
If you plan on long term storage of your furniture, plan on putting the heaviest and largest items of furniture in first. That way you can carefully pile smaller boxes and fragile items on top of the furniture, keeping them from being crushed and making the most of your room.
However, customers in the middle of a house move may find it easier to put the largest items of furniture in last. That way, when you open your storage unit they are right at the front, ready to go into the removals van first. If you are moving in a couple of trips, this also means you can get all the furniture into your new home and in place, before returning for your small items.
Take care of your sofa
One of the things we see most often is damage caused to items that are badly stored. You might think that standing your sofa on end in the unit is a great way to make the most of your available space. However, take a look at your sofa arms first. Are they strong enough to take all the weight for a long time?
If you do plan on stacking your sofa on end, wrap the arms in cardboard to protect them from scratches r fabric tears and stains. The space you save in the short term is not worth the cost of damaging your expensive sofa.
Wrap and protect your furniture
Protect the surfaces of your larger items as well. Taping some cardboard onto table tops before you pile your boxes on will help prevent marking.
Make sure you place furniture the right way up. If you stack your table upside down, or lean it against the wall without care, you could end up with scratches that are visible for ever more.
Use some bubble wrap to cover sharp corners. It will stop them being knocked as they are carried from van to unit.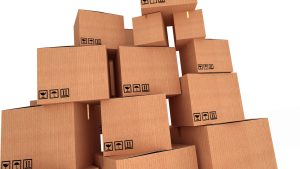 Use strong boxes for smaller items
There's a tendency to grab any old cardboard box to store our smaller items – often saved from deliveries to our homes. However, using purpose made storage boxes may save you some cracks and breakages.
Large cardboard boxes may not be so strong in the centre, particularly when overfilled with heavy items and stacked in a pile. Using the same sized boxes will also make piling things up a little easier – no balancing unstable pyramids in your unit.
Don't forget to label your boxes so you know where everything is – and so you can place fragile items at the top of the stack.
Make use of the space
Make sure you make the most of the height of your unit. Careful planning will ensure that boxes can pile up high without falling, and furniture can be stood on top of each other as long as it's done carefully.
It's very easy to over or underestimate the space you'll need for your furniture and boxes. Our team are able to advise you on the size unit you need, so that you are not left with a mass of unneeded floor. A badly packed unit can mean you leave plenty of unused space that you cannot access, and the need to rent a second unit, which could have been avoided.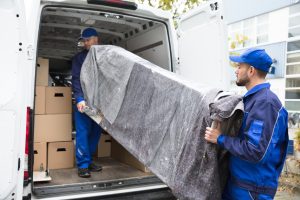 Choose a reputable moving firm
If you choose to use a moving firm, take your time in choosing the right people. Don't assume they will wrap your furniture before placing it in your unit – it's best to do it yourself first.
Cost is also not always the most important consideration – if the firm you choose is rushing, they may take less care in placing items in your unit. This means more chance of damage and less care in using the space wisely.
As experts in both furniture storage and removals, our team take great care in moving your belongings from home to unit and back again. If you would like advice, packing materials or to find out about storage unit options, call us today on 0121 250 5055.