Be inspired this year with a new work environment
A fresh new year stretches ahead, full of possibility. Are you looking at the next 12 months with excitement – or are you still in recovery from a very festive end to 2019?
We love the start of a new year. It's the time for fresh starts, setting goals and making plans. But first, we do have to get through the frosty cold winds of January. So what can you do to make the winter whistle by?
One of the best ways to lift your mood in the winter is to make the space around you as inviting as possible. There's nothing more depressing than spending your working day in a dirty, cluttered space. So, here are some top tips for making more of your work environment.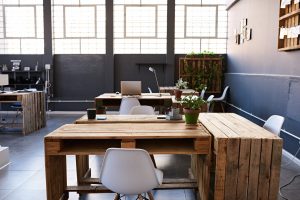 Growing your business
Now is the time for many business owners to start thinking about their business plans for the next quarter at least – and most likely that will involve some sort of expansion. Are you taking on new staff, planning to open a second office or looking at a new approach to marketing?
One thing all businesses need is a bit of space. If you had a bit more room in your office, what could you do with it? Add a few more desks for another desk, or create a vibrant meeting space to wow your clients? It's time for a bit of a clear out, and to consider whether you are really making the best use of your floor space.
Declutter your mind, and your space
A tidy work environment can help your creativity. Over time we collect plenty of excess clutter – on our desks and around the edges of the office. Have you still got promotional material lying about from last year's offers, or old and broken computers piled up in the corner, waiting for someone to do something with them.
A nice clean workspace is not only inviting, but it can lift our mood. Clear out the debris from last year and be ruthless with the paperwork piling up. If you really need to keep old files, but don't need them to hand, then consider archiving storage solutions. Our own units come prepared with racking and collection options, so all you need to do is fill your boxes.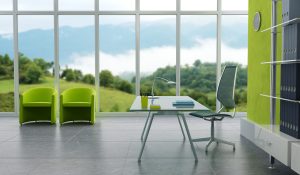 Redecorate and revitalise your mind
If you want to go all the way, how about a completely fresh look in your office. There is a lot said about the way colour affects mood. Blue colours promote concentration, while yellow will create positivity and happiness. Green is a calming, balanced colour, great for an office where you work long hours, while red is an exciting colour to use in a busy, more physical workplace.
The easiest way to get your new look is to move all the furniture out of the way and into a temporary self-storage unit. Then the decorators can get in quickly, and give the whole space a fresh lick of paint.
When you bring the desks back into the space, consider rearranging things so that you have a nice view out of the window, or make the most of the natural light. Bring in some greenery in with lovely plants; not only do they brighten the room, they add oxygen to the air, helping to keep your teams alert.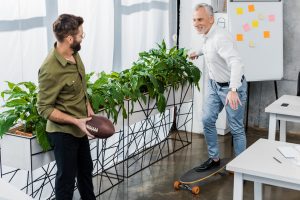 Create a fun space
All work and no rest makes all your staff a little grumpy. A great way to boost morale in your office is to show them how much you value them. A new coffee machine may be a good start, but how about creating a cheerful and relaxing corner where they can take a break, have a gossip and bond a little. Not every office has space for a pool table – but some comfy sofas make a great start.
If you want some help in revitalising your work place, we are on hand to share our space with you. From short-term storage for your redecoration to secure storage for your business archiving, we have plenty of ways to help. Call today on 0121 250 5055 to see how much space you need.