Joining the Buddy Bag Brigade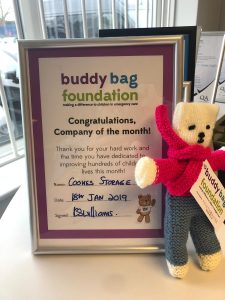 Our warehouse team are quite used to carrying large boxes into storage, but it's rare we have to actually pack them ourselves. This February we teamed up with EcoMaster to pack something a little different – around 200 bags for The Buddy Bag Foundation – and to find out a little more about the work this fantastic charity does at the same time.

The Buddy Bag Foundation
Imagine that you have to leave your home without warning. You don't have time to pack – you just go.
As a child this is an incredibly frightening experience, but it happens every day. Hundreds of children are taken into emergency accommodation by a parent, usually the mother, leaving behind everything they own and all sense of security.
The BBF aims to provide a sense of safety and normalcy to these children by providing a few essential items – the things you wouldn't think about until you didn't have them – like a clean pair of pyjamas and a toothbrush.

The Buddy Bag Brigade
On 15 February the team from Cookes Storage and our partners from EcoMaster, led by Paul Gresty and Jenny, joined the Buddy Bag Brigade by packing around 200 bags to be sent off to emergency refuge around the country.
The BBF holds bag packing events every month, and everyone is welcome to join in. Not knowing what to expect, we assembled together on a Friday afternoon to have an introduction by BBF founder, Karen Williams. Our bag pack was the 95th – Karen aims to hold the 100th bag pack this year.
What would you need?
It had not really occurred to us before what children might miss when they leave their homes. Friends, yes; but we'd not really thought about the need for a clean pair of underwear or a hairbrush. It might be obvious that younger children need pyjamas, but not that teenagers need deodorant and face wipes so that they can start a new school without having to worry about personal hygiene on top of everything else.

All of these things have been carefully thought of for the Buddy Bags, as well as simple colouring activities to occupy younger children and give mum a rest, books for older children, and a pencil case and basic implements for school children.
Each table in the room was piled high with donated items, split by age. Our teams separated out to pack every bag – a picture frame to record a new memory, a postcard to send back to BBF, and the one vital thing in every bag – a lovely teddy bear for comfort.
Crank up the music
Despite the importance of the work done by the BBF, a bag packing event is a friendly and relaxed day. We cranked up the music and enjoyed a change of pace from the usual working day, plus the chance to spend a bit more time with the team from Ecomaster, furniture and French polishing repair specialists.
Thank you to the BBF for inviting us to join in. We're sure we'll team up again for more events soon.