Moving to Sutton Coldfield
The Royal Town of Sutton Coldfield is a picturesque and affluent town in the West Midlands, just 7 miles from Birmingham City and near to the City of Lichfield. If you're thinking of moving to Sutton Coldfield – locally referred to as Sutton – then here is what you need to know.
History of Sutton Coldfield
Despite Iron Age remains and the remains of the Roman Icknield Street running straight through the area, Sutton Coldfield did not exist as a settlement until the 13th Century.
Icknield Street connected the local fort to the settlement of Letocetum, now called Wall, near Lichfield – although its full length ran from Gloucestershire to Yorkshire. Visitors to Wall can see the remains of the Roman settlement, protected by the English Heritage.
The Anglo-Saxon kingdom of Mercia had its capital at nearby Tamworth, and it's possible that Sutton originated as a hunting lodge, or manor, for the king. Possession of the land changed a number of times over the following centuries, and the first known village finally began.
Sutton Coldfield's growth truly took off in the 16th Century, when local child John Harman joined the church and was promoted eventually to the position of Bishop of Exeter, changing his name to John Vesey. Through his support and patronage the town was given a royal charter by Henry VIII – thus the town's full name now of The Royal Town of Sutton Coldfield.
Henry VIII also donated his hunting land – creating what is now Sutton Park. Bishop Vesey's influence is clearly seen throughout the town, from the grammar school he established, known today as Bishop Vesey's Grammar School, to churches, cottages and Vesey Gardens, a memorial park.
The town continued to grow in riches, and was seen as wealthy industrialists from Birmingham as the perfect place for their country homes. The advent of the railway also contributed to Sutton Coldfield as a tourist spot for the city folk, and a commuter town for workers wanting to live outside of Birmingham.
House types / Prices in Sutton Coldfield
Sutton Coldfield has been named as the 4th least deprived area in the country and house prices can be high, particularly in the Four Oaks area. The average house price is over £307,000, double that of Birmingham.
The house prices are in part due to the abundance of green space, a beautiful nature reserve as well as a busy town centre and a number of high performing schools.
If you are thinking of moving to Sutton, you are not alone. Being so close to Birmingham, Sutton is a popular place for city workers, and is regarded as one of the best suburbs of the city to live in.
Schools in Sutton Coldfield
There are a number of primary and secondary schools in Sutton Coldfield. There are two grammar schools – Sutton Grammar School for Girls and Bishop Vesey's Grammar School – and the Independent Highclare School.
Working and facilities
Sutton Coldfield is perfect as a commuter town for Birmingham, and so has very easy access routes via the M6 Toll, M42, A38 and railway to Birmingham and London.
There are two hospitals in Sutton Coldfield, the main one being Good Hope, which provides an A&E facility.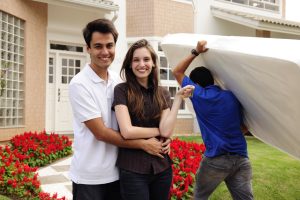 Things to do in Sutton Coldfield
Sutton Coldfield has a main pedestrianised shopping mall in the town centre, with a multi-storey car park. There are a number of smaller shopping centres on the outskirts of the town.
There is a four screen cinema, the Empire, in an art deco Grade II listed building built in 1936.
Sutton Park is a 2400 acre nature reserve, roamed by cattle and wild ponies. Stop by the Visitors Centre for maps and advice about walking routes.
There's plenty to do for families, with Drayton Manor close by. However, after the stress of moving home, you might prefer the chance to relax in the beautiful Moor Hall Spa.
Food and Drink
There's plenty of places to eat and drink in Sutton Coldfield, with over 20 bars, clubs and pubs, and a variety of restaurants offering a mix of international cuisine.
Moving home in Sutton Coldfield
If you're looking for a safe place to store your belongings while you sell your home or decorate your new house, then we can help.
Take the stress out of moving house with our handy storage facilities in Minworth, Sutton Coldfield. We even have our own in-house removals team to collect your furniture and belongings, so all you need to do is settle into your new home.