Top tips for reducing stress on moving day
The market is starting back up, viewings are happening and houses are selling. If your house has sold and you are preparing for moving day, you probably already have a lot on your mind. So, make moving day a little less stressful with our top tips.
Start packing early.
Unless you live in a very small bedsit, you likely have a lot more stuff than you realise to pack. So don't leave it till the last minute. Start packing early, tackling one room at a time, and label every box clearly so you know what to unpack first and what can wait for a while while you settle into your new home.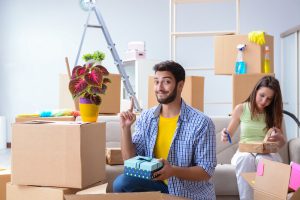 Make a moving day list
There is a lot to remember on moving day, from turning off any services and cancelling the broadband to giving your new address to the neighbours. Always do one last walk through before you close the door, and remember to post the keys through the letterbox.
Charge up all your devices
Make sure your phone is fully charged for the day, and that you have the number for your movers, the sellers of your new home and the estate agents, in case there are any last-minute panics.
If you have children with you, make sure their devices are charged too. You might plan on having them help you move in if they are old enough, but in the end it may just be easier to keep them occupied.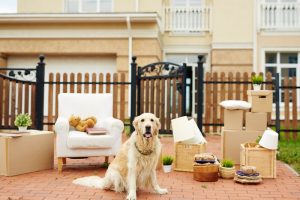 Arrange pet care
Much as we love the furrier members of the family, having the dogs and cats underfoot while you move in will add to your stress, especially if they get out and lost before they know the way around their new home. So arrange to put them into pet care or ask a friend to look after them while you unpack, and introduce them to their new home once you have finished unloading the van.
Plan for your first night
Moving day is a long and tiring event. Plan ahead for the essentials – a nice hot cuppa. Prepare a box of essential items that you'll want immediate access to. The kettle, mugs, coffee and milk, a spoon, and toilet roll.
Don't forget to feed yourself and the family too. Prepare some sandwiches and snacks for the day time, and a meal for dinner. By the time you've settled in, you may not feel like cooking or heading out for a takeaway.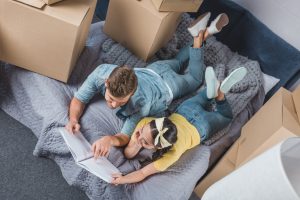 Set the beds up first
The first piece of furniture you need to set up are the beds. After a day of hauling boxes you'll feel much better when you know you can climb into a clean bed at the end of the day and get a good night's sleep.
Only take what you need
If you are moving a family-sized amount of furniture and belongings, it may be more than you can face in one day. Renting a self-storage unit for the short term will make your move a lot faster and easier.
Pack away the heavier and bulky items, the clutter from cupboards and seasonal décor, and leave it all in storage until you're settled in. You can collect the rest from your unit when you are ready for it, and once you've decided where in your home you are ready to put it.
Take the stress out of moving day by planning ahead. As the evening arrives you'll be all settled in for the evening and ready for your dinner and a glass of wine.