Top tips for successful eBay sellers

Can you believe eBay has been around for over 20 years? It's a huge marketplace, providing sellers with access to a worldwide audience of customers. EBay allows small companies and sole traders to set up shop alongside high street brands and compete more evenly.
Of course, the bigger shops still have some advantages – with bigger buying power and larger sources of stock, there's more room for them to reduce prices. But it's not all about the price – so here's our top tips for growing your own eBay business.
Clear, branded eBay descriptions.
As with most everything online, you only have seconds to grab the attention of your customer. After spending hours combing through the search pages of eBay to find 'Rattan Garden Furniture' or a 'Vintage Child's Toy Kitchen', there's nothing more off putting than a poorly written listing.
Create your own shop logo, and make sure it's visible at the top of each description. It gives your shop a more professional and reassuring feel. Make sure every description is concise, but contains key details – the technical specifications and colour, dimensions and cleaning instructions.
If you have all of the details to hand, a buyer will feel more confident in knowing what to expect, and will be happy to pay a little more for that certainty.
Fair postage and policies
Buying from eBay can feel a little daunting to the uninitiated, as it's not always clear whether the seller is an established retailer. Of course, this benefits us as sole traders, as there's no immediate advantage to being a high street brand on eBay – as long as we have clear policies in place.
Make sure your postage is fair – it's easy to be found out if you are inflating courier charges or trying to profit on a stamp, and it will be noted in your subsequent feedback.
Have policies in place that outline whether you'll accept returns on faulty items. Nothing reassures a buyer than knowing there's an easy solution to potential problems.
Finally, take advantage of the About page to give some background to your business and location.
Speedy communications
By providing clear and detailed item descriptions, you'll cut out a lot of repetitive questions from potential customers. However, you'll still get some queries before a sale, as well as customers contacting you in relation to delivery issues and so on.
Make sure you respond to every question clearly and quickly. Waiting days for an answer to a problem will just aggravate the situation, while potential sales will be lost as shoppers go on to the next seller.
When a sale is made, providing swift confirmation followed by emails to acknowledge postage and delivery will also build confidence in your brand.
Organisation
Organisation is the key to running any successful business. While your eBay shop may start off as a hobby, as it grows it will take more and more of your time. To keep both your reliability – and your own sanity – it's important to develop a process.
Firstly, if you can, keep to office hours. Then when you 'finish work' for the day, you can turn off your computer and relax, while your online shop just keeps on selling.
Secondly, develop a routine. Spend the morning answering queries from customers and organising new stock. Next focus on printing off new sales up to your cut off time. Then allow time to package and address them all, in time for collection by your courier, or for you to skip off to the post office.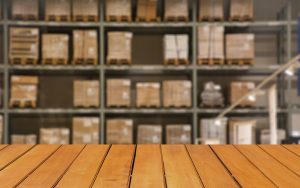 Expand and grow
As your sales increase, routine becomes more important. Most eBayers start off at home. The constant swapping of the dining table from family use to functional production line will soon lose its appeal though.
As boxes of stock start to take over the available space in the home, consider expanding your operations to a storage unit. There are a number of advantages.
You'll have a clear divide between home life and work life. You can set up an office space inside your unit, with a desk for your computer. This will allow you to focus without distractions during office hours. Many self storage units can be equipped with heating, power and Wi-Fi.
Your storage unit can also be fitted with racking, keeping boxes of stock organised and easy to hand. The tools you need for packaging, weighing and labelling items can stay out where they are needed.
A self-storage unit also has benefits over traditional shop premises. There is no separate business rates or council tax. You pay one rental fee – and only on the size of the unit you need. Then, as business booms, it's easy to move into larger units or rent a second one – with more stock allowing you to match high street prices.
Finally, storage companies often offer other business perks. Cookes has a kitchen, bathroom and meeting space on site for your use – removing practical concerns from working on site all day. And we'll accept deliveries, so you can forget hanging about waiting for stock to arrive, and spend your time elsewhere.
If you're thinking of starting, or expanding, your eBay business, then get in touch. We're here to help.